Little Witch Academia: VR Broom Racing, also known by its Japanese title (unofficial), Little Witch Academia: VR Broom Race (リトルウィッチアカデミア -VRホウキレース- Ritoru Witchi Akademia: VR Houkirēsu?)[1] is a Kickstarter (English)[2] and Campfire (Japanese)[3] VR Game Project by UNIVRS. On December 22, 2020, the game was announced to be released on the (Oculus) Quest Store.[4]
Overview
One November day after the magic festival, there's a sudden change in the Luna Nova Witchcraft Academy: an unexpected overflow of previously-scarce magic power!
The school quickly invites guest students to help with consuming this excess magic, and you're one of them.
Practice with Akko and the other students to win the Stella Cup at the last day of your term, a two-witch team broom race!
"Together, we can fly!"
Plot
Prologue
It all started when Guest Student arrives at the woods not far from Luna Nova during which she is greeted by Akko who crash-landed in front of her because of the poor control over her broom and gives her Neby, a smart crystal issued for the newcomer and other guest students like her. Alongside Neby, both girls set out for Luna Nova with Akko showed the newcomer how to perform Flight Spell, though it is eventually Neby who does so as the Japanese loses control over her broom, again.
Catching up with Akko at the balcony of the Headmistress' office, the guest student is introduced to the academy before the Japanese has the smart crystal showing her which dorm room she would stay at. It is there she may free to customize magic brooms in her disposal and access Luna Net to buy more powerful brooms and related equipment with gathered Luna Points and Luna Tickets before moving on to meet up with Akko and her fellow Luna Nova students.
Stage 1: Bond Magic
"

Welcome to Luna Nova Witchcraft Academy!
Akko has been waiting for you. "Let's fly together!", she says.
But how...?

"

—Stage 1's description.
After taking her time preparing and getting used with her new room, Guest Student meets up with Akko and is informed about the upcoming Stella Cup at the end of the guest enrollment. Not surprisingly, the Japanese is more than eager to participate in such event and urged the newcomer to join her in their training together, reassuring her own moderate broom flight skill won't be detrimental since they use Bond Magic, a Flight Magic Spell that allows two casters to share one another's magic power as they fly with their respective broom and empowered by their bond to each other. Akko also explained that Professor Ursula and the rest of the faculty are too occupied with a certain ritual, leaving her in charge of introducing Guest Student things in the academy.
True to her statement about Bond Magic, Akko and Guest Student managed to fly together with no problem whatsoever, more so with the latter proved to be fare better than the Japanese. Before the two parted ways, Akko states that she's going to introduce Guest Student with her roommates soon.
Stage 2: The Starlink Ritual
"

Magical power has been surging around Luna Nova! What's going on? Lotte will fill you in.
Fly around the entire campus and practice those turns!

"

—Stage 2's description.
Later that afternoon, the Guest Student meets Lotte who brings her to the courtyard where students of Luna Nova hone their skill in broom flight. Just then, Akko shows up to check on both of them and reminded the latter about the academy's latest situation. It's revealed that the air around Luna Nova is overflown with magic for some reasons and it necessitated the academy's professors to conduct Starlink Ritual via. Leyrings (rings Guest Student and co. pass through during the race) to return the excess power back to Ley Lines. The ritual itself takes a few days to complete and in that mean time, the students are encouraged to fly around with their brooms as they please so as things will be easier in the professors' own part. Such phenomenon has its own fair share of benefits however, as that also means Stellar Cup can be held at Luna Nova in its fullest given that such competition involved larger amount of magic power usage than other forms of broom race owing to the use of Bond Magic Spell in it as well as why guests students are invited in the first place. Despite this, they need to further hone their broom flight skill so they all ready for the upcoming Stellar Cup.
After another training, this time with Lotte tagged along, the Guest Student's broom flight skill improved further to the point of the latter remarked her being better than Akko, much to the Japanese's envy that she (Akko) will become as good as Shiny Chariot someday. Akko then wondered why everyone is not using Bond Magic Spell all the time, and Lotte explained such spell deemed impractical during the magic-scarce modern age because of using a lot of magic power, though such setback is no longer the case with magic has returned to the world. Before the three girls called it a day since it's already late, Lotte revealed that she and Akko have another roommate to meet tomorrow; Sucy.
Stage 3: Mushroom Outbreak
"

Oh Shiitake!
Sucy's experiments caused a massive fungal bloom! Did she have Cremini intent?
What dangers lurk in these fields of mushrooms?

"

—Stage 3's description.
To Akko and Guest Student's shock, a field of giant mushrooms and other things (which obviously the recreation of Sucy's inner world) appeared near Luna Nova. The one behind such phenomenon was none other than Sucy who more or less intended it to happen through her magical experiment, though the effect obviously beyond her expectations owing to the amount of overflown magic in the air. Guest Student then introduced to the young Manbavaran who confirmed her to be the one who everyone talked about before expressed her indifference to event that just transpired, much to Neby's chagrin. Despite this, the smart crystal agrees with Akko about dealing the overflow of magic power through another broom race practice before insists Sucy to do the same.
To Akko's further chagrin, Sucy comments Guest Student's superior flight skill as with Lotte on the other day. As she makes it clear that she will become a better flyer than Amanda and Diana, the girls notice the latter shows up at last, much to Akko's curiosity that she decides to talk to her with Guest Student in pursuit.
Stage 4: Stardust Ghosts
"

The magical surge continues to mystify! Luna Nova's top student is on the case!
Shoot and purify ghosts with Diana.

"

—Stage 4's description.
Meeting Diana, Guest Student and Akko are informed by Luna Nova's top student about another situation at hand; whenever one flies around with Bond Magic as part of the Starlink Ritual, it generates magic currents stronger than usual to the point of triggering the emergence of Stardust Ghosts (restless spirits of the dead affected by such magic currents) that proved to be nuisance and therefore must be purified so as to force them back to the other side as Neby added. Diana cites such phenomenon only occurs due to unusual flows of magic in Ley Lines where in this case, Yggdrasil Sprout – the fragment of the namesake World Tree itself. Yggdrasil Sprouts themselves are very rare that records pertaining them understandably scarce at best, though the Cavendish luckily managed to procure one of old texts pertaining such phenomenon. Her explanation is soon interrupted by Akko who is too excited by the ghost hunt job at hand while Neby finds something in such topic bothering her for some reasons, leading Diana remarks about the peculiar sentience in Guest Student's Smart Crystal. As uncertain as she is over her familiarity with the topic pertaining Yggdrasil Sprouts, Neby puts that aside since they have Stardust Ghosts to purify, which Diana agrees as she eventually notices Guest Student's promising magic potential unlike those of her peers.
Using Bond Magic with one another, Guest Student and Diana fly through a nearby prepared Leyroad to face Stardust Ghosts during which they notice a dimensional rift that moves through the light path's course. Not only from the same rift up to 3 ordinary Stardust Ghosts and one rare Stardust Ghost emerge to the land of the living, it even enters Warp Rings as the two are purifying the spirits of the dead until the rift eventually closed upon approaching Goal Ring.
In the aftermath of the ghost hunt, the girls are relieved that most of Stardust Ghosts have been purified and Diana hopes the Starlink Ritual Luna Nova professors currently working on goes smoothly so Yggdrasil Sprout's overflowing magic can return to the Ley Lines and with it, everything returns to normal. Diana does, however, decide to take a look on the old text she finds, particularly the passages regarding the Seven Broom Stars that supposedly appear in times of disaster. With Stardust Ghosts gone, Diana encourages Guest Student to continue using Bond Magic for their part in the ongoing Starlink Ritual.
Stage 5: Giant Tree
"

A gargantuan tree has grown near Luna Nova!
Amanda just wants to practice her moves!

"

—Stage 5's description.
On the next day, Guest Student meets Green Team members; Amanda, Constanze, and Jasminka. Intrigued by her talent, Amanda asks Guest Student to show what she can do in a broom race around the nearby giant tree whose growth being influenced by the excess magic in the air around Luna Nova. Just then, the Irish-American inquires Guest Student whether she happens to familiar with Seven Broom Stars and expresses her desire to have them as they about to begin the race.
Using Bond Magic with one another, Amanda and Guest Student engage in the broom race on the prepared Leyroad around the aforementioned giant tree. To Amanda's pleasant surprise, Guest Student proves herself capable in keeping up with her superior broom flight skill. Satisfied, Amanda praises Guest Student for it and asks her to let her know if she figures out some info pertaining Seven Broom Stars.
Stage 6: Masses of Magic
"

Stardust Ghosts are flocking to the Giant Tree. What is attracting them?
Watch out for Ghosts and gimmicks lurking in the branches and leaves.

"

—Stage 6's description.
Sometime later, Guest Student meets the red team with Akko expresses her pleasant surprise over the former's improved broom flight skill. Lotte agrees with Akko's statement before expressing her concern about the overflowing of magic power build-up at Luna Nova grounds. Neither Akko nor Sucy takes the news seriously despite the latter being aware of the magic power build-up in question happens to be in the largest concentration ever recorded in history thus compares it to every storm in every year. Neby insists that would be a major problem as such phenomenon can potentially trigger disastrous outbreak of magical beasts and harmful seismic activities. Reminded by the incident with the cockatrice during her journey for Luna Nova back then, Akko states that they ought to use the overflowing magic power for good cause only for Sucy argues that the Japanese' ulterior motive being harnessing such power as she please. Sheepishly acknowledging such remark, Akko asks Guest Student to fly with her around the same giant tree the latter flew alongside green team earlier.
Upon arriving at the giant tree, the girls find themselves chasing a moving rift that produces Stardust Ghosts that overrun the Leyroad around the tree, but nonetheless enjoy their ghost hunt there. In the aftermath of said ghost hunt, Akko expresses her delight to see that she fares better in broom flight at the time, which helped by the conducive air current in the surrounding area. The relieved Lotte informs the group that the overflowing magic power has calmed a bit thanks to their joint efforts. Sucy, on the other hand, states that she won't mind flying alongside Guest Student again if her mood is right into it, giving away how much she enjoyed the experience as much as the others. Both Akko and Lotte soon notice this with the latter encourages the young Manbavaran to express herself more, much to the latter's chagrin.
Stage 7: Testing a New Broom
"

Constanze has crafted a new mechanical broom. Join for her test flight!
The Giant Tree has a variety of biomes perfect for testing a new broom.

"
It's the beginning of the fourth day of Guest Student's enrollment at Luna Nova when she meets green team members who happen to be in good mood for another broom race with her. Constanze is shown to be the most eager out of three, having completed a new mechanized broom for the endeavor. Unwilling to let herself be outperformed by the German mechanic in such friendly competition which doubles as the latter's test flight with said broom, Amanda rallies everyone to commence the race straight away with Guest Student pairs herself with Constanze.
Constanze's test flight with her new mechanized broom (which technically improved version of the one she usually flies with) proves satisfactory as much as the race being thrilling and exciting. Though outperformed, Amanda nevertheless enjoyed the race as much as Constanze who states that the improved mechanized broom proved superior in addition of having smooth sailing to the boot. The same goes to Jasminka who munches her snack happily.
Stage 8: Ghost Panic
"

Sucy fed the Ghosts her special mushrooms! The Moral of the story? Don't give strange foods to strange creatures!
Shoot ghosts in dense mushroom forests.

"
Meeting Lotte and Sucy at the recreation of Sucy's inner realm near the academy, Guest Student is surprised to see the two being surrounded by Stardust Ghosts who behaved erratically for some reasons. As it turns out, Sucy fed them with her mushrooms, affecting their mood not in the way either her or Lotte expected. Unwilling to let the affected ghosts around knowing they would likely cause a trouble or two in Luna Nova grounds, Neby urges everyone to clean up the Manbavaran's messes and banish the ghosts back to the afterlife. Pairing herself with Sucy, Guest Student begins her part in banishing the ghosts in the area starting from ones that consumed Sucy's mushrooms earlier.
Once the Stardust Ghost horde have been taken care of, the relieved Lotte reprimands the exhausted Sucy and discourages her from disturbing the ghosts any further. Sucy heeds the Finnish's warning simply because she doesn't want to deal some erratic spirits of the dead every time. Neby on the other hand, expresses her doubt whether Sucy will keep her word, especially upon noticing the Manbavaran's excitement in response of her concern regarding the possibility of some mushroom-shaped ghost showing up.
Stage 9: Want Some Donuts?
"

Jasminka bought donuts to snack on. Maitake? She bought way too many.
Burn all the calories you can in Sucy's World!

"
Guest Student is surprised to see Jasminka bought a year's supply of donuts and that Amanda and Constanze already full from eating lots of them, though the same cannot be said to Jasminka who obviously unaffected from doing the same thing. As such, Amanda suggests Jasminka to fly around the recreation of Sucy's inner realm on their stead this time.
Interestingly, Jasminka is revealed to be remarkable in performing Bond Magic with her and maneuvering her magic broom all while constantly eating at the same time throughout their race together. Even Neby notes this shortly after they concluded their race. The pleased Amanda and Constanze on the other hand, decide to start their own broom race together now that they have digested much of the shared donuts to burn their own excess calories.
Stage 10: Emergency Mission
"

The outpouring of magic has gotten worse!
Fly around the Luna Nova and beyond. What secrets lie within?

"
To Guest Student and her friends' horror later that night, the outpouring of magic in Luna Nova grounds is getting worse that a pillar of magic energy surge erupted between the main building and New Moon Tower. Remembering negative consequences that come from such phenomenon as told by Neby earlier, Guest Student, Akko, and Lotte decide to fly while using Bond Magic in hopes of containing it somehow and that they will use more magic power than usual to do so. Neby, on the other hand, feels that she has seen it coming but unable to remember why. Unfortunately, their endeavor backfires with the seemingly receding energy surge pillar unexpectedly grows in power and size. Luckily, Diana shows up to deliver some good news to the girls; she has managed to decipher the contents of ancient tome pertaining Yggdrasil sprout and for that moment, they ought to better understand the explosion of magic that just occurred.
Stage 11: The Seven Crystals of Bonds
"

According to Diana, we Blewitt! Not all hope is lost, don't Bolete yourself.
This course is for advanced witches.

"
Closing in for the pillar of magic energy surge at the heart of recreation of Sucy's inner realm, Diana discloses the content of the old tome to Guest Student, Akko, and Lotte;
| | | |
| --- | --- | --- |
| " | The one who gathers the seven crystals of bond will calm the calamity of the great tree. | " |
The Cavendish deduces the seven crystals of bond being seven special Broom Stars which serve as the key to solve their current predicament. When Akko asks the Cavendish where to find them, Diana states that she has yet to decipher the rest of the old tome's contents to answer it, but nonetheless reveal another piece of important info; two witches who fly together via. Bond Magic and gain each other's trust while doing so may manifest their own special Broom Star. To test such theory, Diana asks Guest Student to fly with her via. Bond Magic as she's still uncertain how much they need to trust each other to manifest one of such Broom Stars.
Guest Student and Diana failed to create their shared special Broom Star despite their efforts, but their teamwork nonetheless allowed the two to recede the outpouring of magic in the area for real, much to Lotte's relief and Akko's joy since they're getting somewhere. Diana reminds that they must stay vigilant and reveals that they need something else in conjunction of seven Broom Stars of Bond in order to stop the ongoing calamity; a catalyst which, if combined with said Broom Stars, will form a legendary magic broom called Yggdrasil Broom. As of the catalyst itself, it is something that Diana will try to find out by deciphering remaining passages in the old tome, though she theorizes it being a piece of Yggdrasil itself. With that, Akko states that they ought to fly around and use up the overflowing magic power in that meantime while Neby struggles to remember something that bothering her as of late.
Stage 12: Eve of the Stellar Cup
"

It's the day before the anticipated Stella Cup.
Fly around Giant Tree. Sharpen your skills for tomorrow's competition!

"
Despite the disaster on the other day, everyone nonetheless continues their preparation for the upcoming Stella Cup at its earnest. Excited for the upcoming big event, Akko and Guest Student begin another of their broom race training together around the giant tree. Their training goes smoothly with Akko barely contains her excitement for her would be part in Stellar Cup and Diana states that there'd no signs of magical disasters that would ruin it as of late, hoping that the professors succeed in completing the ongoing Starlink Ritual. Lotte apologizes to Guest Student over how things went throughout her stay in Luna Nova but, the latter reassures that she did have fun nonetheless, inspiring her to enroll at the academy for real in the next year. In her excitement, Akko guarantees that Guest Student will be accepted, forgetting that the decision supposedly lies on the academy leading Amanda to make fun of her for it until the Japanese notices shooting stars on the sky.
Final Stage
Part 1: Stellar Cup
The long-awaited Stella Cup has begun. During such thrilling and exciting event, Guest Student takes her turn in assisting her friends as a flight partner as they participate in it one by one, manifesting their respective Seven Broom Stars of Yggdrasil Broom in the process;
First Broom Star of Seven Broom Stars of Yggdrasil Broom: Appears after partnering herself with Akko. Gazing at the Broom Star, Neby states that she can feel a growing strange power for some reasons.
Second Broom Star of Seven Broom Stars of Yggdrasil Broom: Appears after partnering herself with Lotte.
Third Broom Star of Seven Broom Stars of Yggdrasil Broom: Appears after partnering herself with Lotte.
Fourth Broom Star of Seven Broom Stars of Yggdrasil Broom: Appears after partnering herself with Diana. Neby expresses her curiosity over what would happen once everyone got seven of them.
Fifth Broom Star of Seven Broom Stars of Yggdrasil Broom: Appears after partnering herself with Amanda. The Irish-American jokes that she will sell the Broom Star for some cash.
Sixth Broom Star of Seven Broom Stars of Yggdrasil Broom: Appears after partnering herself with Constanze.
Seventh Broom Star of Seven Broom Stars of Yggdrasil Broom: Appears after partnering herself with Jasminka. Jasminka considered to eat it because of its beauty, though she gives it to Guest Student anyway.
Part 2: Neby Revealed and Epilogue
Sometime after the exciting Stella Cup, the sky turns red as the pillar of magic energy surge emerges stronger than ever. It's clear the best solution to deal the disaster is to use Yggdrasil Broom as Starlink Ritual alone proved not enough. As soon as Guest Student reveals Seven Broom Stars of Yggdrasil Broom in her possession, an unforeseen miracle occurs; Neby's spherical form reacts upon the power within the Broom Stars that unexpectedly merges with her as she suddenly transforms into an ornate, ethereal-looking magic broom, to the surprise of everyone present – Neby IS the catalyst required to reform the Yggdrasil Broom all along!
With her ancient broom form revealed to everyone, Neby tells Guest Student and co. her origins; she was originally a fragment of the very out-of-control Yggdrasil Sprout in front of them fashioned into a magic room to regulate the flow of magic in the same Sprout. One day, she got separated from her Yggdrasil Sprout and began to lose her powers, forcing her to merge with one of Luna Nova's Smart Crystals in order to sustain herself as her original broom form got severely damaged from the same incident. As her original Seven Broom Stars got destroyed in the same incident, Neby was unable to remember who she was up until her replacement Seven Broom Stars were made through the bond between Guest Student and Akko and co.. Naturally, everyone is shocked by the revelation, though Akko nonetheless awestruck by their friend's true mythical nature. With no time to lose, Guest Student takes off with Neby as her broom along with her friends to stop the ongoing cataclysm.
Unfortunately, the magic vortex from the out-of-control Yggdrasil Sprout proved too much for the witches that they have to pull back. Left with no other options, Neby decides to sacrifice herself by flying into the vortex in order to restore the flow of magic in Luna Nova back to normal right from within Yggdrasil Sprout itself, much to Guest Student's dismay. Before leaving, Neby reassures her owner that she had a good time while flying with her knowing she would become the strongest, kindest witch in the entire world and that Guest Student would be able to handle herself without her. As she helplessly watches her partner flying into the vortex, Guest Student can hear that deep down, Neby wished to fly alongside her friend a bit more over the clouds and beyond the stars thus reassuring that she won't forget about her. Not to mention their time together allowed her to understand how it felt like bonding with the others.
As the vortex receded, this time once and for all marking the flow of magic around Luna Nova begins to return to normal, all that remained from Neby, her intact Smart Crystal husk, landed at Guest Student and co.'s feet. The inert Smart Crystal remains unresponsive to Akko's voice as the Japanese attempts to wake it up to no avail. Before Lotte could conclude that their friend indeed gone, Sucy notices Guest Student's bracelet starting to glow — another Broom Star, this time the eight one, has manifested in her grasp! The astonished Diana reveals the Eighth Broom Star came from her bond with Neby before asking Guest Student what she wished for. Remembering Smart Crystal's final thoughts, Guest Student expresses her desire to see Neby once again as expected, leading it to merge with the cracked Smart Crystal, restoring it.
The first thing Neby sees upon her revival as a fully dedicated Smart Crystal is the overjoyed Guest Student and her friends as she indignantly states that she thought she had given them a poetic farewell. Brushing that aside, Neby asks Guest Student whether her heroic sacrifice earlier was cool nonetheless. Regardless of Guest Student's chosen dialogue response, Neby remembers that her duty as a Smart Crystal is far from over thus asks her owner where their next stop would be.
As shown in the end credits, Guest Student, Akko, Lotte, Sucy, Diana, Amanda, Constanze, Jasminka, and Neby take a picture of them together after such thrilling and exciting adventure.
Gameplay
Unlike Chamber of Time, Little Witch Academia: VR Broom Racing is viewed through 3D first person perspective like other simulation games. Its gameplay is split into four sections:
Character Customization
When starting a new game, you are required to determine the appearance of your player character, Guest Student. On the character creation screen, you can do three different things:
Choosing her body type (short, slender, and stocky)
Choosing her hairstyle (wavy, side ponytail, short not unlike Ursula in her younger days, and poofy), and lastly,
Choosing both hair color and skin tone.
You may revise her appearance once again in the Title menu.
Free Flight Mode
Free Flight Mode is where the player can fly freely around the school building of Luna Nova Witchcraft Academy with other players online. (Maximum 10 players will be randomly matched.)
Magic Training and Stellar Cup
Magic training is where you may hone your broom flight skill alongside your partner and deepen your bond with her as the preparation to enter the upcoming Stellar Cup. During the prologue's tutorial section however, you fly alone as Neby helps you familiarize with controls. You can score points by flying through Green Leyrings positioned above Leyroad (the path of light that has been prepared to highlight the course of the race) and entering Warp Rings (Orange Leyrings) a few times to quickly reach Goal Ring at the start of the race all while staying in the course and evading walls, ground, and structures on the Leyroad (ex. flag pole, tree branches).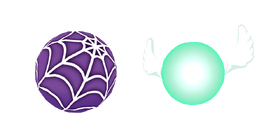 There are two main obstacles that can be encountered in the game:
Decelerator Sphere: A purple sphere adorned with white spider web-like pattern. Hitting one will slow your broom down.
Accelerator Sphere: An emerald sphere with a pair of white bird-like wings. Hitting one will temporarily boost your broom's speed.
By flying through any of item boxes prepared within the course, you may receive following items:
Acceleration Item: A golden Luna Nova Insignia-themed medal bearing a symbol in form a pair of white wings on emerald background. Increases your broom's speed for a limited amount of time.
Super Acceleration Item: A rainbow-colored Luna Nova Insignia-themed medal bearing a symbol in form a pair of white wings on emerald background. Increases your broom's speed for a limited amount of time.
Deceleration Item: A golden Luna Nova Insignia-themed medal bearing a symbol in form a white spider web on purple background. Temporarily decrease your broom's speed.
Whereas flying through Green Leyrings without crashing into anything and reached the first place during the race earn you lots of Luna Points, Luna Tickets can be earned through completing secondary objectives.
In addition of broom race, the player also participates in Ghost Hunt where they must purify Starlink Ghosts that infested Leyroads. Bond Magic Spell performed as part of both Starlink Ritual and broom race which involves the use of Leyrings, instruments for conducting the former, generates strong magic current that not only assisting in returning the excess power back to Ley Lines, but also produced blur-like dimensional rifts from which ghosts return to the land of the living while warped at the same time in the process. Said rifts moved along the Leyroad until disappearing as soon as it reached the end and in that mean time, the player and her partner must stay close to the rift and banish emerging ghosts along the way.
Broom Customization
This is where you may select which broom that suit you best be during the broom race and ghost hunt. After selecting a broom, you can improve its performance by inserting at least 3 Broom Stars, special gems that can bolster a broom's parameters, to improve its performance.
Luna Net
Luna Net is where you can spend Luna Points gathered from broom race and ghost hunt to buy more powerful brooms and Broom Stars. You may also trade certain amount of Luna Points with Luna Tickets to buy things as well.
Characters
Trivia
The game takes place after "Tree of Leaves", approximately seven months after Akko managed to levitate off the ground with her broom given to how she loses control over her broom like in short film, the absence of Shiny Rod, and other characters' notes about the abundance of magic in the air (though magic is overflowing around Luna Nova for some reasons by the time of Guest Student's arrival).
The game was originally planned to be released in June 2020, but ultimately postponed to Octo 13, 2020 in the light of COVID-19 [5]
Gallery
Little Witch Academia: VR Broom Racing has an associated gallery

here

.
References
External links
Buy
Pre-prder
Crowdfunding
News