Team Venus are the collection of Kaiju belonging to Diana Cavendish. She uses her Battle Nizer later Neo Battle Nizer.
Diana Cavendish
| Diana is the star student of Luna Nova Academy, adept in every field of magic. While she may seemed snobbish but she has a huge sense of honor, willing to help others, even if they were her rivals. Diana has taken interest with Akko after she revealed herself as a Monster Tamer as she herself is one as well.  | |
| --- | --- |
Battle Nizer/ Shin Battle Nizer
| The Battle Nizer is a standard monster summoning device to all Reionyx which allows to store three monsters. So far, Diana Cavendish is the only one who wields the Battle Nizer as her mother bestowed her Monster Tamer powers into her when she was a child. It would later evolved into the Neo Battle Nizer which boosted the powers of her Kaiju.  | |
| --- | --- |
Kaiju
Lidorias
Subtitle: Friendly Giant Bird 
Lidorias is one of Diana's most frequent used Kaiju as she summoned him to take her to skies to relieve her stress. Although, Lidorias has proven himself to be the young girl's bodyguard and his might is proof of that. Lidorias has a sense that allowed him to be aware the status of Diana and when he arrived whenever she was in danger, Lidorias attacked with his flight and energybeam attacks.
Stats
Mukkito
Subtitle: Lost Rare-beast
Mukkito: Mukkito is one of the smallest of the Kaiju. Everyone in school thinks that he is adorable. Diana has shown to be motherly towards him and doted on him a lot. Mukkito possessed flight and could project messages and memories. The projections are capable of X-Ray and destroy energy binds.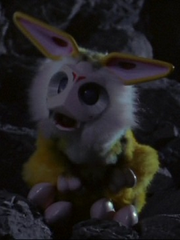 Galberos 
Type: Fiendish Type Beast
Galberos: Galberos was a Cerberus like Kaiju that has been with the Cavendish Family for some time. Bernadette was unable to tame it but allowed it to stay under the Cavendish Manor as its home. It was only when Diana has proven her worth that Galberos allowed itself to be part of her Kaiju team. He possessed the ability to unleashed fireballs and capable to create powerful illusions.
Statistics
Weight: 39, 000t
Origin: Earth
Attack: 1000
Defense: 900
Speed: 800
Eleking
Subtitle: Space Monster 
Stats
Community content is available under
CC-BY-SA
unless otherwise noted.