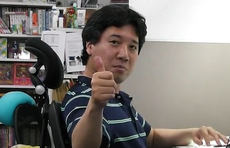 Yō Yoshinari (吉成 曜 Yoshinari Yō), born May 6, 1971, is a Japanese key animator, storyboard artist and anime director. He is known for his exaggerated style of his effects animation, mainly for smoke and explosions. He is the concept creator for Little Witch Academia and has worked on other anime series such as Kill la Kill, Gurren Lagann, and Neon Genesis Evangelion. On the original short film Little Witch Academia, he served as director, character designer, animation director, and drew background roughs.[1]
He was the director for the Little Witch Academia initial short film, the Little Witch Academia: The Enchanted Parade sequel film, and the Little Witch Academia animated TV series.
Personal life
Yō Yoshinari was born in Tokyo, Japan. He is the younger brother of Kō Yoshinari, who is also an key animator. Yoshinari graduated from Tokyo Designer Gakuin College and joined Madhouse in 1992. He left in the same year and joined Gainax, where he worked until 2011 when he joined Imaishi and other ex-Gainax employees to form Studio Trigger.
Other notable works
Dead Leaves (key animator)
Medabots (key animator)
Gurren Lagann Parallel Works (director, animation director, storyboard artist, key animator, episode 8)
Panty & Stocking with Garterbelt (concept art, animation director, key animation, episode 12B)
Boukyaku no Senritsu (mechanical Design)
Mobile Suit Victory Gundam (key animation, episodes 35, 39, 44, 51)
Chou Kidou Densetsu DinaGiga (key animation, opening)
Sketches
References
External links
Interviews
News
Community content is available under
CC-BY-SA
unless otherwise noted.